Redefining Thermometer Technology
Patented sensor technology integrated into a wearable device
Workforce Protection for Businesses

Observe the core body temperature of your workforce for early signs of potential issues
Body temperature monitoring for at risk healthcare workers in hospitals and nursing homes
Getting back to work with confidence reassuring staff with safe healthy workplace
Why core body temperature?
Core body temperature refers to the temperature of the body's organs. It fluctuates following physiological processes, such as circadian cycles, menstruation, illness or physical activity.
Core body temperature is an important vital for providing valuable insights on health and well-being.
Other devices try to estimate core temperature via skin surface temperature which due to the complexity of thermal regulation and environmental conditions can not come close to the accuracy and reliability of CORE.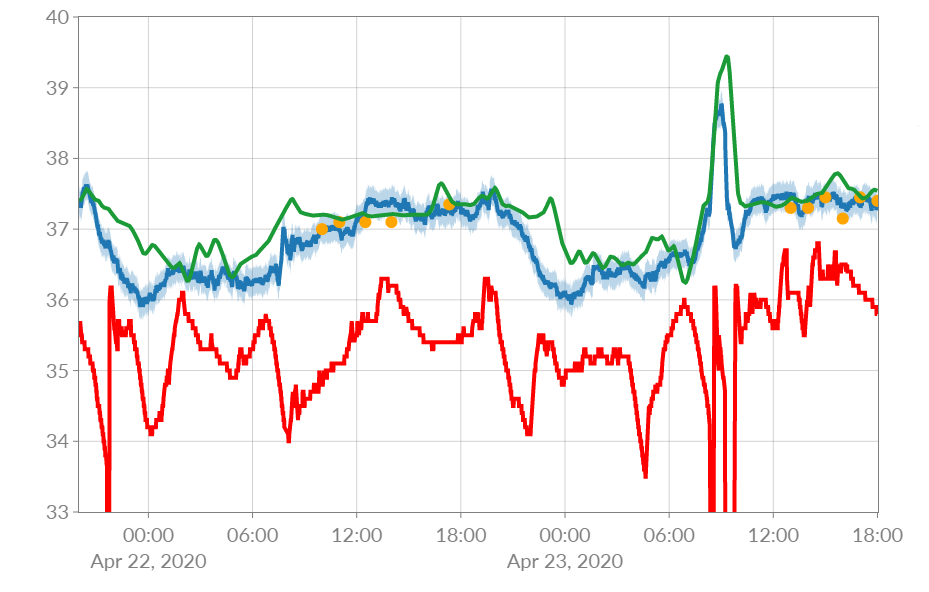 Above, a graph representing the gap between core body temperature (in blue, measured with an electronic ingestible pill) and the skin surface temperature (in red). The blue line represents the core body temperature measured with CORE. The pike in the graph represents a short period of intense sport activity.
Sports Performance Monitoring for Athletes
Temperature effects performance, get insights for improving your performance
Constant monitoring gives valuable insights into your overall health and wellness
Avoid potentially dangerous heat stress situations for safety and peice of mind
CORE is the first non-invasive wearable that allows to continuously measure core body temperature under real-life conditions with great accuracy
Our patented novel sensor allows to accurately monitor core body temperature just through skin contact.
Long battery life allows monitoring core body temperature for longer periods (over 6 days) without interruption.
Comfortable and Lightweight
The device is easily mounted on a chest strap or attached with a medical grade patch. It is water-resistant and can be sanitized using alcohol.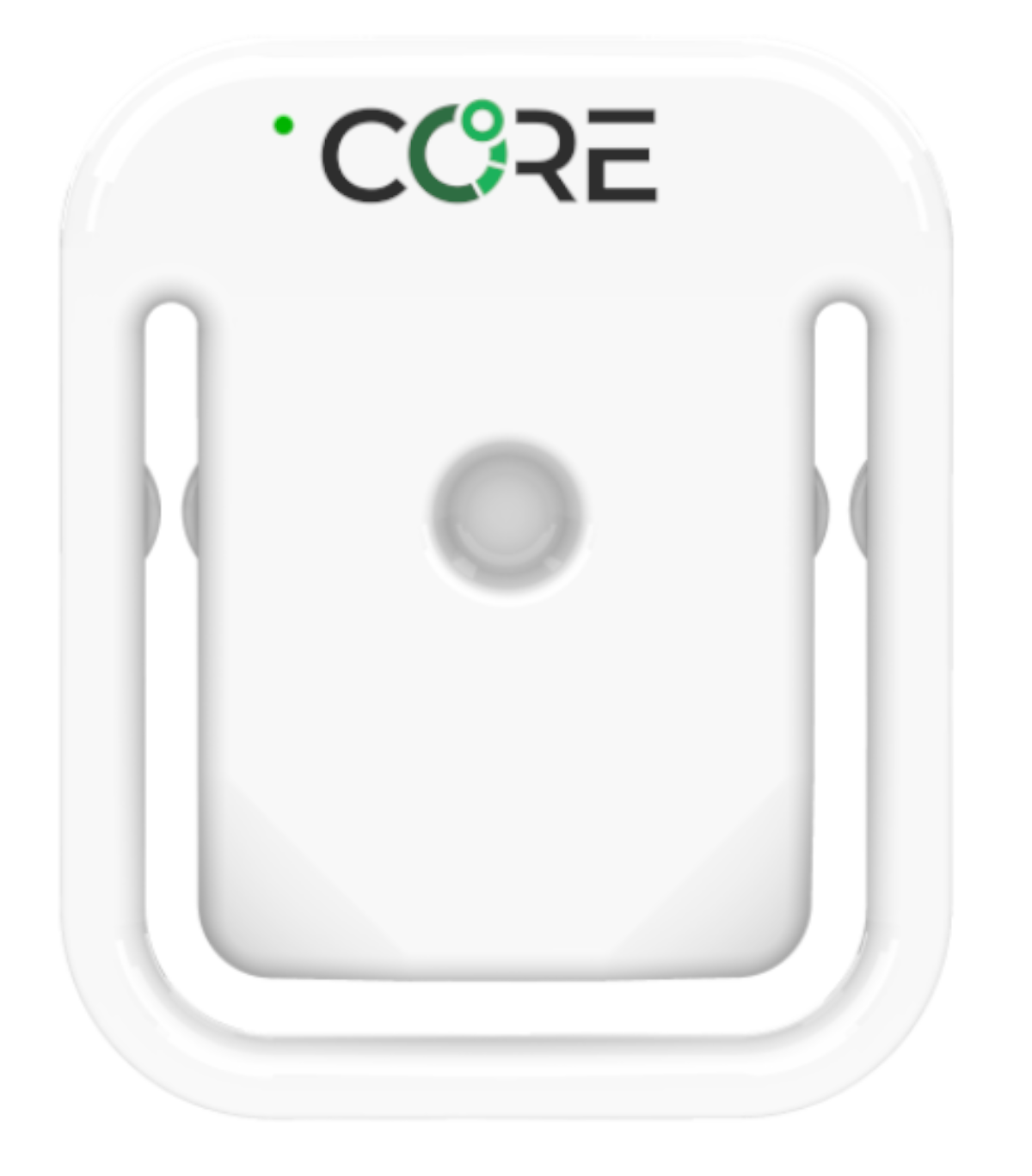 Connect with Your Device(s)
CORE connects wirelessly with Garmin, iOS and Android smartwatches and smartphones streaming real time Core Body Temperatures.
Artificial Intelligence Algorithm
CORE uses a sophisticated machine learning based algorithm with the greenTEG energy transfer sensor to calculate and analyze core body temperature in real-time.
Multiple patches can be operated with the same smartphone. Furthermore, the BLE standard temperature profile can be provided to stream the data on any BLE compatible device.
CORE
Rechargeable patch device for continuous monitoring of
Core Body Temperature
CORE outer casing
Made of durable skin-compatible polymer.
Fully sealed with no moving parts
Compact Size
50mm x 40mm x 8.5mm, Lightweight at only 12 grams
Power supply
Rechargeable lithium-polymer battery via magnetic USB cable
Battery life
Constant transmit time > 6 day, Standby mode > 5 weeks
Internal memory
Record up to 84 hours of high-resolution data
Data output streams
Core Body Temperature, skin temperature, data quality, battery level, heart rate (from 3rd party sensor, if available), time stamp; additional information can be exposed upon request (ie. accelerometer, firmware version)
Sampling rate
1 Hz
Communication protocol
Standard BLE Health Thermometer profile, Standard ANT+ profile
Skin temperature accuracy
±0.1°C
Core Body Temperature accuracy measured at chest
± 0.66°C (2σ); 0.26°C Mean Absolute Deviation
Calibration
Factory calibrated – no re-calibration necessary
Water rating
IPX7 (waterproof up to 5ft)
Product features
– Smartphone application (Android/iOS/WatchOS/Wear OS/Garmin)
– Live display of current core body and skin temperature (via app)
Connectivity
CORE accompanying Smart Phone Apps available iOS and Android Smartwatch Apps also available on Apple WatchOS, Garmin ConnectIQ with Android WearOS available soon
Also compatible with many existing third-party apps and devices